It has been 1 year since I decided to jump in full time to The Royal Treatment. The reason I decided to step out and do something different was to be a part of the change in the healthcare system. It was a combination of trying to provide as high-quality care as I could, not being able to give the patient exactly what they needed due to having to attend to other patients at the same time, ultimately having nothing left to give my family at the end of the day. It was during that time, something needed to change. I look back over the years and appreciate all the experience and mentorship I received, which now I ultimately understand was needed to have the confidence and skillset to help every person that walks through the doors of The Royal Treatment.
Over the last year, I have learned a ton about being a business owner. I've learned that being a business owner isn't always kittens, puppies, and rainbows. I have learned that the journey to entrepreneurship is an absolute rollercoaster. For any of you that have owned a business, you completely understand that this is a marathon and not a sprint, and that you will need a very good secure seat belt along the way. But I would have to say, it has been one of the most rewarding tasks I have ever entered upon.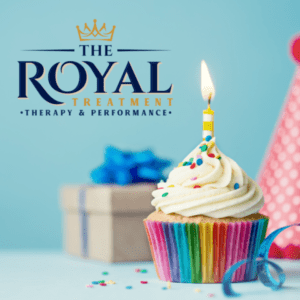 There are quite a few people that have had a huge impact on the business, and I wanted to let them know how much I appreciate them. First and foremost, I have been blessed by God to be able to have the life to do this. My wife Christi, has sacrificed a ton, working more than full time while picking up the slack at home and taking care of 3 kids four and under. I cannot thank her enough for her sacrifice. Jordan Floyd, owner of Limitless Therapy and Wellness, has been my business coach and mentor, helping me every step of the way from before launching the business with thoughts and ideas on paper to the mountains and valleys of the business. If It wasn't for his guidance, I don't know where I would be. I want to thank Amanda Worley, the owner of Prosper Physical Therapy, as if it weren't for her I would never have made the connection to Independence Golf Club. I want to thank Independence Golf Club, as they've given me a great opportunity to set my boots on the ground running and create a space to help my clients get back to the activities they love. Giff Breed, the owner of Independence, and Drew Clements, the Director of Golf Operations have been huge advocates for me, along with the members. My dad Jim, has been a big supporter and has constantly encouraged me along the way. Laurie, Andy, Judy and Ken, my parent/grandparent in-loves have sacrificed a lot to come  help take care of the 3 kids during the days and weeks our babysitter was out, while I could help my clients with treatments. Garrett Nealon, the owner and performance specialist of Athlete's Prehab here in the Richmond area has been a huge supporter of me and has told every person he knows about my business. Ariel Spagnolo, a local realtor with Hometown Realty has been a huge supporter of my business again telling every person she knows about me. This is just a small list of people that have been a positive association with The Royal Treatment, and thank you all for the support!
As most of you know I lost my mom, Bekke Royalty, and only sibling/sister, Ashleigh Royalty, over the last 6 years. This has given me such a different perspective on life and I now realize that every single day is a gift and we are not guaranteed tomorrow. Before starting the business, I thought to myself, that life is too short to be miserable in your job feeling like a rat in a wheel trying to stay ahead. Knowing and feeling all of this was enough fire to push me over the edge to embark on something new. The ability to create your own schedule and give clients exactly what they need is one of the most rewarding feelings I honestly cannot put into words.
Over the course of this last year we have been able to help 121 unique individuals get back to the activities they love and enjoy. Totaling 496 treatment sessions. For any of you all that have been to a traditional PT clinic, you were probably seen upwards of 10-20 visits. If you take the time spent to attend those 10-20 sessions, think about how much time you are saving by being seen less than those 10 visits, but achieving the same or better results?
I can honestly say that I am humbled at how different things are now than they were a year ago. I look forward to continue this growth and the ability to change more lives moving forward, as we are just getting started!